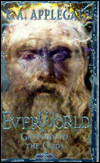 *From the Publisher*
David, Christopher, Jalil and April have finally found allies in Everworld who stand half a chance against the evil Ka-Anor. They've joined forces with the mighty Greek Gods to defend against the Hetwan's latest attack.
*My Opinion*
Another great one! In this book the teens are on Mt. Olympus and must help the gods to fight the invasion of the Hetwan since they have no clue how to defend themselves. David leads the mortal forces in the battle to save EverWorld from Ka Anor.