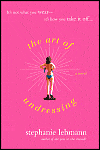 From the Publisher
Ginger's mother, Coco, used to be an exotic dancer, though now she makes her living selling sex toys and teaching classes like "The Fine Art of Striptease." A straitlaced, self-respecting twenty-five-year-old, aspiring pastry chef Ginger has no desire to follow in her mother's high-heeled footsteps. She's too busy trying to convince her sadistic French cooking school instructor of her talents in the kitchen.When Ginger gets sweet on a fellow student, she finds herself ill-equipped in the art of seduction. And when she discovers she has a reputation for being "just one of the guys," suddenly, she's looking for some motherly advice on how to catch the man she loves.
Author Biography: Stephanie Lehmann is the author of Thoughts While Having Sex and Are You in the Mood? A playwright and contributor to Salon.com, she lives with her husband and two children.

ETA 4/20--
I am so happy that this was on someone's wishlist which prompted me to read it instead of letting it languish on my TBR pile any longer. It was a funny, good read. Ultimately a romance but with a lot of insight into the psyche of Ginger, who is determined not to grow up to be her mom, Coco, a stripper. While at the same time letting us see what a strong woman Coco is, despite of, or possibly because of, her career choice. This was a great change of pace from the paranormals that I have been reading lately.